At This Moment, Potential Customers Are Searching The Internet For Your Product Or Service
If They Don't Find YOUR Website, They WILL Find Your Competition's web site.
Go ahead, do a Google search for your local product or service (e.g., search for richmond va condos, waltham ma plumber or mold remediation providence). Can your prospects find you on page 1? If not, you're effectively invisible where your prospects are looking most!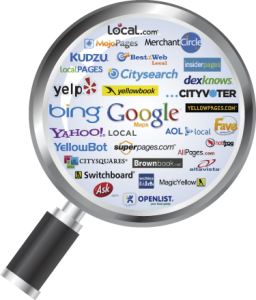 Search engines offer the valuable opportunity to reach the base of consumers who are ready to buy your product or service now.
As a business, by placing yourself where consumers search, you find new customers who are ready to buy.
97% of consumers use online media to research products and services in their local area
83% of U.S. households now use the Internet as an information source when shopping locally
83% of local searchers will follow up with a phone call or visit to the listing that stands out best
90% of searchers won't look past page one of the results page (According to Google)
97% of American internet users use the internet to shop of which 57% characterize their behavior as shop online, purchase offline (NPD Group)
90% of online commercial searches result in offline bricks and mortar purchases (comScore)
82% of local searchers follow up offline via an in-store visit, phone call or purchase (TMP / comScore)
80% of budgets are spent within 50 miles of the home (DMA )
74% of internet users perform local searches (Kelsey Group)
73% of online activity is related to local content (Google)
66% of Americans use online local search, like Google local search
61% of local searches result in purchases (TMP / comScore)
54% of Americans have substituted the internet and local search for phone books (comScore networks)
35% of all searches are local (DM News)
25% of internet searches have a purely local, commercial focus (Kelsey-Bizrate)
Does your marketing spend reflect these dynamics?